Design and Build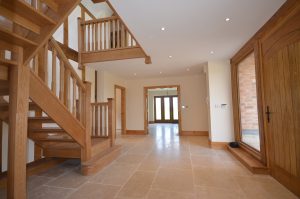 David Smallcombe Ltd has been designing and building new houses for 30 years, using his own architect to ensure you get the home you want. By being involved from concept to completion, David Smallcombe ensures all areas run smoothly with his expert knowledge in all processes, bringing high quality at all stages.
Using our own skilled craftsmen and our expert joiners in our own workshop, all areas of the new build are well managed with attention to detail. As David Smallcombe has built many of his own homes, he understands the importance of comfortable well-planned living space and beautifully presented exterior – a house you are always happy to come home to.
We are currently working with building developer Heritage House. To see some of our work visit www.heritagehousehomes.co.uk
Listed Buildings
Listed building is one of our continued favourite areas of work and expertise. With a deep interest in the history of buildings, we have successfully worked on some truly fascinating properties around Worcestershire. From dealing with planning and having our own architect, we can care for your listed building and refurbish it to your taste. Our aim is to always ensure we keep the character of the building maintained, using our careful skilled craftsman, whilst also finding new and creative ways to improve its structure.
Our workshop also have a wealth of knowledge when it comes to listed buildings, and are often creating beautiful bespoke windows and doors for tailored sizes.
Bespoke Works
David Smallcombe and his team of qualified tradesman are able to tackle a range of building projects including, but not limited to:
Refurbishment

Orangeries

Bathrooms

Barn Conversions
We are happy to work alongside your architect, or use our own, to design and build your project and bring your ideas and concepts to life. Having multi skilled and experienced tradesmen allows us to be involved in your project from the beginning, bringing professionalism all the way through to completion.